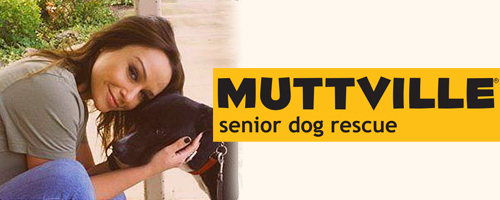 Welcome to DANIELLE HARRIS' CLOSET CLEANOUT FOR CHARITY !!! Every year I find a charity that touches my heart and with a little creativity and help from my fans and friends, we raise $$$ for INCREDIBLY deserving organizations. For those of you that don't know, I am an ENORMOUS animal lover and have a serious weakness for animal rescues and this one in particular is doing something that I am extremely passionate about! I myself have only rescued older pound puppies (my Pitbull Thor was 6 and my Lab Sally was 7 when I adopted them) knowing that unfortunately the pups with a gray muzzle are considered "unadoptable" simply because of their age so they are euthanized! Older dogs are the way to go, I swear!!!! SO, recently I stumbled upon the senior dog rescue MUTTVILLE and I think that what its founder Sherri Franklin is doing for senior dogs is just remarkable. They are a non-profit organization dedicated to changing the way the world thinks and treats older dogs. Creating better lives for them through rescue, foster, adoption, and hospice.
To read more about MUTTVILLE and the wonderful things they do everyday check them out at www.muttville.org or watch this quick video http://www.muttville.org/video
Other ways you can help are donating straight to Muttville on their website, becoming a "Mutt Guardian" for a senior pup for as little as $10 a month, fostering, or the best option yet, ADOPTION!!
My second passion (other than being a "scream queen" of course) is recycling clothes, so while making room in my closet the other day an idea popped into my head…Use clothes to raise $ for MUTTVILLE!!! ALL OF THESE ITEMS BELONG TO ME AND CAME RIGHT OUT OF MY CLOSET. MOST HAVE BEEN WORN TO PREMIERES, IN PHOTOSHOOTS, or just in my everyday life. Once I started talking about how awesome MUTTVILLE was to my other actress friends, they all wanted to clean out their closet for the cause too!!! SO HERES HOW IT GOES…
When you win an item from the auction, we will include an autographed thank you photo from whoevers cool clothing you won to show how much we appreciate your help!!
Thank you all again for your support. It means the world to me.
Most importantly you are saving the lives of pups that have many more years left and SOOOO much more to love to give!! Xoxoxo, D.
ENDED, THANKS FOR ALL THE SUPPORT!